On-approval hardcopy packets
of Cambiata Press music
from
"World's Largest Sheet Music Retailer"
Choose the pieces you want to see from the Cambiata Press online catalog or the pieces you have viewed and heard online,
Go to J.W. Pepper online or call them at 800-345-6296 to order
To find all Cambiata Press music on the Pepper website, search:
Keywords: Cambiata Press
Within: All Products Category (dropdown)
(upper left of home page)
Peruse the music at your leisure

Keep the pieces you want

Return any or all you don't want.

You will be billed only for those you keep
---
Need to purchase & obtain the music immediately?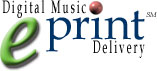 Click here to Eprint it and have it now!
USE KEYWORDS: Title - Composer or Arr. - Pub. (Cambiata Press)
WITHIN: All Information (drop-down)